A Fine Mess – A Global Quest for a Simpler, Fairer, and More Efficient Tax Code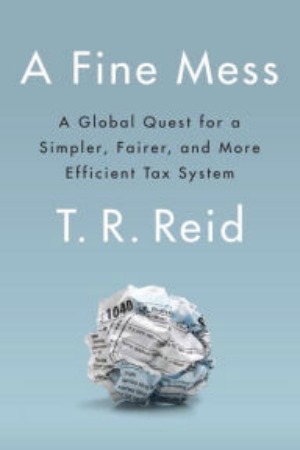 278 Pages
ISBN 9781594205514
Best-selling Denver author T. R. Reid continues his round-the-world reporting by looking at the tax codes in other rich democracies to show what the U.S. should do --and should not do -- when we reform our rotten tax system. Could U.S. taxes be fairer, simpler, more efficient? The answers: Yes, Yes, and Yes. It turns out that every idea for tax reform, from left or right, has been tested somewhere. Would a flat tax work? A dozen countries tried it. A carbon tax? Australia and Germany tried it. Does filing taxes really have to be complicated? In other rich countries, there's no such thing as H&R Block, because there's no need for that service. T. R. Reid's comparative look at health-care system around the world, "The Healing of America" (Penguin Press), became a national best-seller and a widely-used guide in our health care debates. Reid's "A Fine Mess" looks to do the same for tax policy -- in his characteristic engaging and entertaining style. A Fine Mess will be published April 15, 2017 and is currently available for advance order at on-line and retail book stores everywhere.
About T. R. Reid (Detroit, Michigan Author)
T. R. Reid has become one of the nation's best-known corresponsents through his reporting for The Washington Post and National Geographic, his films for PBS Frontline, and his light-hearted commentaries on NPR's Morning Edition. He has reported from four dozen countries on five continents. Reid has published 10 books in English and three in Japanese. He has made documentary films for PNS, National Geographic TV, and other networks. His 2010 book "The Healing of America" became a national best-seller. PBS made two films following Reid around the world as he researched that book. Reid is chairman of the board of the Colorado Coalition for the Homeless and the Colorado Foundation for Universal Health Care. He has served on several other community and educational boards.