A Life for a Life – A Mystery Novel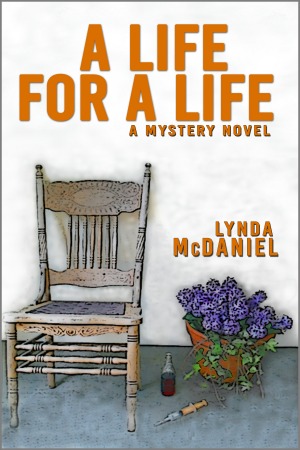 329 Pages
ISBN 9780997780802
When a young woman is found dead in the North Carolina mountains, the sheriff says suicide. Della Kincaid disagrees. A former reporter in Washington, D.C., she knows how to chase the real story.
But she's now living in Laurel Falls, N.C., trying to create a new life for herself. Without her usual sources, she turns to an unlikely cast of characters—friends, customers, ex-husband, forger—to uncover a series of crimes and sorrows.
Along the way, Kincaid discovers how much the Appalachian landscape and people mean to her—and that life can offer second chances.
About Lynda McDaniel (Asheville, North Carolina Author)
My writing career started at the end of a gravel driveway lined with tall pines and sun-dappled daffodils. I recall that day with the fiercest clarity: walking up to a massive oak door with a hand-forged handle, tugging on its surprising weight, and entering a world of art and craft, music and writing. I was visiting the Campbell Folk School in Brasstown, North Carolina, where I got a job writing newsletters and press releases, articles and ads. Once I saw my first published article, I was hooked. I haven't stopped writing since. ​ I've gone on to write more than 1,200 articles for major magazines, hundreds of newsletters, and dozens of blogs. I'm proudest of the 15 books I've written, including "A Life for a Life." The way I see it, books are to writers what pentathlons are to athletes: Endurance. And I've got it! ​ I grew up in Cleveland, Ohio, but I've lived all over this country—from the Midwest to the Deep South to Appalachia to the Mid-Atlantic to the Pacific Northwest. While living in Appalachia, Asheville, N.C. became my hometown—for the supplies we needed while living on the farm or eventually where I launched my professional writing career. Years later, I settled in Sebastopol, California, a place that reflects the values I learned while living in the mountains of North Carolina, all those years ago. ​