Add Humor To Your Life; Add Life To Your Humor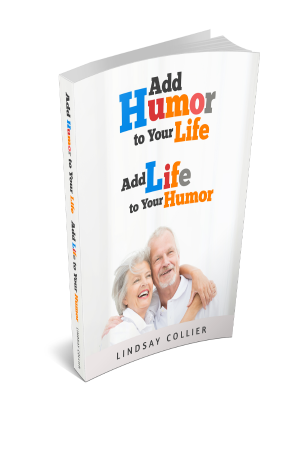 152 Pages
ISBN 978-1519617972
Your sense of humor is one of your most powerful assets.What is the nature of humor and why is it so important to your physical, mental, and social health? What forms does it take, and how can you use the power of your sense of humor to create a more exciting life? This book is full of advice about how to make humor a key part of your life. It is loaded with some very creative ideas you will be able to use to add zest to your life through humor.
It includes a ten-day program that will help you supercharge your humor. The Appendix alone, which contains some of the best humor resources you will ever find, makes this book a real blockbuster! I dare you not to smile while reading it.
About Lindsay Collier (The Villages, Florida Author)
After serving as a Captain in the US Army, Lindsay Collier had a storied career with Kodak beginning as an engineer and becoming their expert in creativity and innovation. He also did some pioneer work focusing on humor in the workplace. He took an early retirement to write, consult, and speak about these topics and his books and presentations are characterized as being original, fun, and packed-full of good, usable stuff. He has been a keynote speaker at events across the country and internationally to include several speaking engagements in South Africa. His book, Organizational Mental Floss; How to Squeeze Your Organization's Thinking Juices, is one of the most creative books you can find on organizational creativity, innovation, and change.
After the loss of his 1st wife of 40 years to ovarian cancer he also wrote what might be one of the most creative books on surviving loss which has provided comfort and hope to so many people. His book, How to Live Happily Ever After; 12 Things You Can Do To Live Forever, even comes with a money back guarantee - if it doesn't result in your living forever your money will be cheerfully refunded.His latest book, Add Humor To Your Life; Add Life To Your Humor, is arguably the best book ever on how to use humor in your life.
He is still speaking and writing and currently lives in The Villages, Florida and has recently published, Living Your Retirement Dreams and Growing Young in The Villages; Florida's Friendliest and Healthiest Hometown - even though he will never consider himself retired.