Book All the Teachers! – An Irreverent Ride through Middle School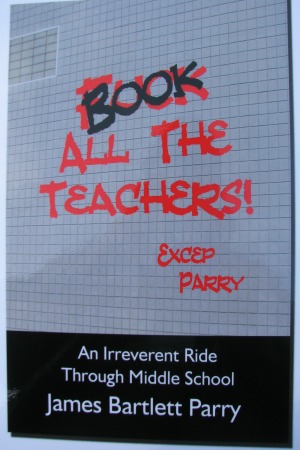 229 Pages
ISBN 978-1-936178-00-1
BOOK ALL THE TEACHERS! is a bittersweet account of James Parry's 35-year teaching career. In this humorous yet poignant memoir he reminds us that middle school/junior high is where and when the hormones hit the fan. It's the place where one is stuck between childhood and adulthood.
The story follows the adolescent years of Danny, a rough-around-the-edges seventh grader, who comes from a dysfunctional family and, serendipitously, ends up under the author's wing. Stroll with them down their long and winding road that eventually leads to a lasting friendship.
This is a book about students, teachers, administrators, and parents; some crazy, some pathetic, some comical, some wonderful. It is a personal, realistic look at our public school system and those who suffer within it.
About James Bartlett Parry (Spokane, Washington Author)
Jim Parry was born in Boise, Idaho, but soon found his way to Spokane, Washington where he was raised with his brother in the northeast corner of the city. He earned his BA at Eastern Washington University and an MA from Whitworth University. He retired from Spokane Public Schools after teaching middle school for 30 years and tutoring for the district for another five years.
Jim has had two short stories published. This is his first book. He still resides on Spokane's north side - with wife Lynda and cat Scotty.