Broken Fate – Threads of the Moirae Book 1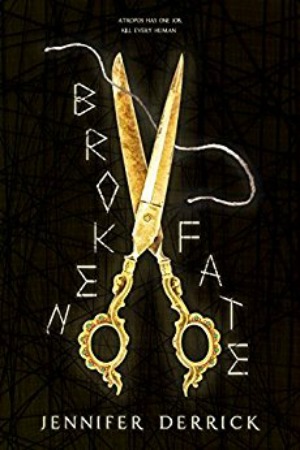 280 Pages
ISBN 1634221656
Zeus gave her one simple job: Kill every human. Atropos—daughter of Zeus and the third goddess of Fate from Greek mythology —spends her eternal life snipping human lifelines when their mortal lives are over. As if being a killer doesn't make life miserable enough, she and her Fate-wielding sisters must live amongst the humans on Earth thanks to a long-running feud between their mother and Zeus. Living on Earth means they must mingle with the mortals, attend the local high school, and attempt to fit in—or at least not stand out too much.
Killing and mingling don't mix, which is why Atropos' number-one rule is to avoid all relationships with the humans. Caring for the people she has to kill is a fast track to insanity. However, when Alex Morgan walks into her first-period English class, she knows she's in for trouble. He's the worst kind of human for her to like—one with a rapidly approaching expiration date. And he makes Atropos want to break all the rules.
About Jennifer Derrick (Raleigh, North Carolina Author)
Jennifer is a freelance writer and novelist. As a freelancer, she writes everything from technical manuals to articles on personal finance and European-style board games.
Her interest in storytelling began when she was six and her parents gave her a typewriter for Christmas and agreed to pay her $.01 per page for any stories she churned out. Such a loose payment system naturally led to a lot of story padding. Broken Fate, her first novel, earned her $2.80 from her parents.
Jennifer lives in North Carolina and, when not writing, can often be found reading, trawling the shelves at the library, playing board games, watching sports, camping, running marathons, and playing with her dog. You can visit her at her official website: www.JenniferDerrick.com.
Other Books by This Author