Days of Daze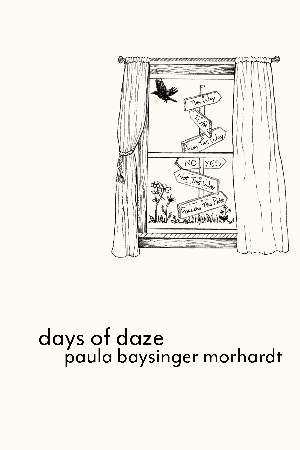 46 Pages
ISBN 978-1-9525678-8-9
This 23-poem, hardcover chapbook is filled with cats, bugs, heart wrenches, soul searching, and backed up sinks. It contains comments about things everyone knows - or thought they did. Waking in a daze, walking around in a daze, entire days of daze, all in poetic form.
About Paula Morhardt (Other Author)
Paula Baysinger was born (as was her favorite author) on April 1st.
Writing from the time she could hold a pencil, Paula was never brave enough to submit a book for publication until the unexpected death of her husband, LaVerne Morhardt, in 2017. The loss of her mother the next day was the impetus to start writing every day, blogging about her journey as a new widow.
Paula's first book, Widow's Walk: How My World Ended And What Happened After, was published in 2018 by Amazon Press. Paula has not stopped writing since.
Days of Daze and Night Maze will be published in late 2020 by Fox Pointe Publishing and is a collection of poems written over the years.
Paula lives in the Midwest with her gardens and her rescue cats, and is visited regularly by her five grandchildren.
Other Books by This Author