Degrees of Obsession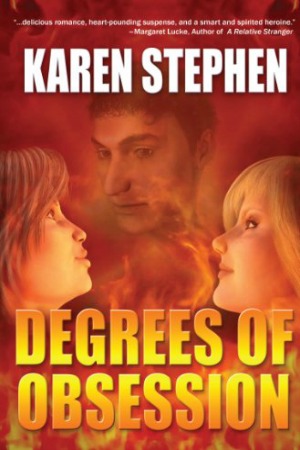 339 Pages
ISBN 1-4196-1191-7
Charlie Pederson, fierce but flawed like all women who have loved deeply and lost, takes a dangerous thrill ride from risky infatuation to the edge of disaster when she stalks her still suck-the-breath-out-of-you handsome college flame.
As a therapist, Charlie knows she should abandon her crazed obsession over Danny Shapiro. But as a woman turning fifty and stifled in her marriage to deadly dull Harold, she finds herself driven to take a dicey last chance to find all that her heart needs.
Little does she suspect that an impulsive visit to Danny's law office will make her the target of a homicidal erotomaniac. As she chases Danny down, she jeopardizes her professional reputation, infuriates her best friend, alienates her husband, and risks exposing the most painful secret of her life.
DEGREES OF OBSESSION has it all—juicy romance and heart-pounding suspense. Best of all, it shines light on the fears, follies, and fantasies that drive the choices women make and on the love that redeems them.

About Karen Stephen (Oakland, California Author)

Karen Stephen grew up in La Jolla, dividing her free time between body-surfing, home chemistry experiments, and writing essays and poetry. Her debut novel DEGREES of OBSESSION was showcased by CreateSpace at the Los Angeles Times Festival of Books and is now available on Kindle.
Her fascination with Corsica began when a mistral storm left her stranded on the Scented Isle during her college days. Attempting to "liberate" two Foreign Legionnaires made that cruise an adventure she would never forget and became the back story for her second suspense novel MOTHER TONGUE.
Her novels will appeal to all lovers of the Romantic Suspense genre as well as to readers of upmarket women's fiction who are looking for suspense and thriller elements. Her growing online presence highlights her role as Author, Flamingo Lover, and Corsica Enthusiast. Her author website can be found at karenstephen.com, on Twitter @docflamingo, and at facebook.com/authorkarenstephen