Forgotten Movie Stars of the 30's, 40's, and 50's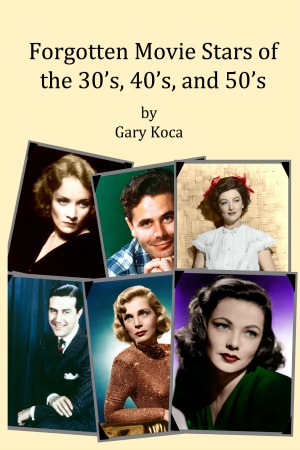 412 Pages
ISBN 9781482575019
Forgotten Movie Stars of the 30's, 40's, and 50's provides a wealth of information on 25 leading motion picture stars of the 1930's, 40's, and 50's who were relatively big stars in their heyday but are virtually unknown today to anyone under the age of 45.
The book provides a biography, awards received, and a review of 4-8 of the best films of each star. Tyrone Power and Barbara Stanwyck are two of the 25 stars in the book.
Fans of the type of films shown on Turner Classic Movies should enjoy the book very much.
About Gary Koca (The Villages, Florida Author)
Gary Koca has had a love of classic movies from the 30's, 40's, and 50's for as far back as he can remember. He is a devoted fan of Turner Classic Movies and got many of his ideas from films shown on that network.
Professionally, he worked in human resources for 42 years, either as a Federal government employee or contractor. He has written hundreds of position papers, proposals, articles for journals, letters, and many other written products during that time. Now retired and able to devote more time to his love of classic movies, his major character flaw is being a life-long fan of the Chicago Cubs.
Gary is married and lives in suburban Chicago and The Villages, Florida.