Grace Trail – Find Your Footing & Move Toward the Life You Were Meant to Live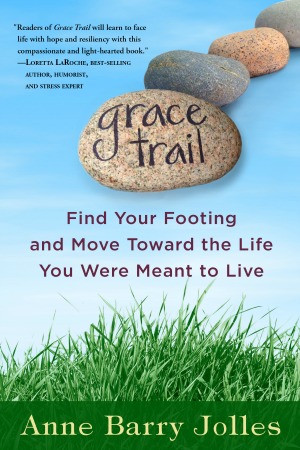 186 Pages
ISBN 978-0996837002
No matter who you are, no matter what you've been through, Grace Trail® will connect where you are now with where you want to go.
You can walk the trail anywhere, anytime, with anyone by just showing up and asking the questions shared in this book. Created by acclaimed life coach Anne Barry Jolles in 2012 to help her cope with the worry of having a son in combat in Afghanistan, Grace Trail has guided thousands of people to begin a simple conversation around joy, hope and resiliency.
Plymouth, MA is the site of the original, beloved path, but it is not the only one. Grace Trail can be walked anywhere, from the comfort of the reader's kitchen to the office or any outdoor spot. Filled with easy to implement ideas, inspirational anecdotes, humor, compassion and realistic optimism, this book offers readers practical, immediate tools to take "5 Steps Toward Your Best Life.®"
By asking and reflecting on key questions about the five components of GRACE - Gratitude, Release, Acceptance, Challenge and Embrace - you will find that you are walking off your worries and accessing hope. Move toward the life you were meant to live with Grace Trail.
Grace Trail is the Trail that leads you back to you.
About Anne Barry Jolles (Boston, Massachusetts Author)
Anne Barry Jolles is a renowned life coach, TEDx speaker and international award-winning author. She thrives on working with courageous people wishing to transform the way they live and work and are willing to do what it takes to get there. Blending life experiences and research, Jolles created a resiliency model called the Grace Trail and has shared it with thousands as it evolved for over a decade. The trail has many forms, including an actual trail in Plymouth, MA, virtual trails, workshops, webinars and retreats. Her bestselling book Grace Trail: Find Your Footing and Move Toward The Life You Were Meant To Live was recommended by Jack Canfield, Chicken Soup for the Soul co-creator and is available at major booksellers.