Grayson Rising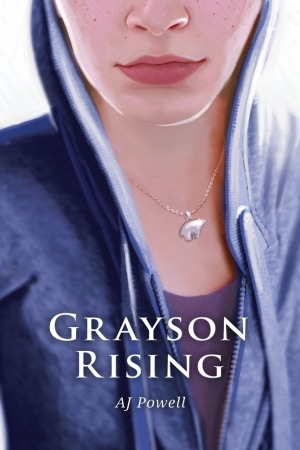 274 Pages
ISBN 978-1943548149
The childhood I thought I had? That was a lie. The family I thought I knew? That was a lie, too. There's nobody left to help me, nobody to explain it to me, nobody to tell me that it's alright, nobody to tell me everything's going to be okay. I've got to run. I've got to get out of here. I've got to figure out what I am, and why I can do these impossible things. Am I a superhero? A monster? A freak?
My name is Grayson Guinness. Who am I?
Grayson Rising charts ten unforgettable days in the life of Grayson Guinness, as she works to determine who she is, who's after her, and how to make sense of her rapidly-changing world. Set in present-day Grand Rapids, Michigan, Grayson's story will leave you on the edge of your seat as she works to figure out what happens next.
About AJ Powell (Grand Rapids, Michigan Author)
AJ Powell is an IT consultant and public speaker by day, and a writer and game designer by night. His first novel for young adults is called Grayson Rising, and was released in October of 2016.
By day, AJ works as a STRATEGIC CONSULTANT and MANAGER working to provide services ranging from human-centered design through application and mobile application development. On his best days, he gets to talk about software development, the evolving face of the application industry, culture as strategy, and his (legitimate) fears about the coming robot apocalypse.
By night, AJ is a FATHER of two, a WRITER, and a GAME DESIGNER. Having written a number of plays, short stories, and a couple of full-length novels, and having designed tabletop games, card games, and computer-based games, AJ's been making "stuff" for the whole of his adult life. Learn more about AJ at www.graysonrising.com