How Not to Be My Patient – A Physician's Secrets for Staying Healthy and Surviving Any Diagnosis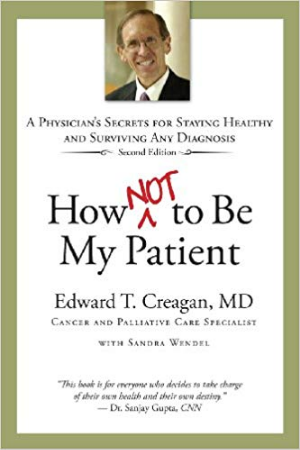 280 Pages
ISBN 978-0991654413
"Creagan responsibly and compassionately covers the many steps readers can take to give themselves the best odds of surviving or avoiding cancer and other diseases." –Publishers Weekly
The facts are clear. If you want to be healthy for life, you had better:
• Learn to talk so your doctor will listen. • Understand every diagnosis—and realize that you can survive bad news. • Follow Dr. Ed's eight simple commandments for living well—and long enough to cash in your 401(k). • Separate hype from hope, especially with perplexing medical headlines and confusing Internet information. • Get insight into what your doctor wasn't taught in medical school. • Combine the best of traditional and complementary treatments. • Make simple lifestyle changes to improve your health. • Adopt the essential steps to achieving health, peace, and happiness.
As a cancer specialist, Dr. Edward Creagan has been treating very sick patients for more than 30 years. This book is not just about lifestyle choices, although these are important aspects of Dr. Creagan's healthy living plan. It is about using your precious minutes in the exam room (the average doctor visit is about 13 minutes), forging the right kind of relationship with your care providers (because that world is changing quickly), and understanding and using the health care system—instead of having the system use (and often abuse) you.
If you learn to use your relationship with your doctor to your advantage and focus on your personal lifestyle decisions, you'll save time, money and your health—even in the face of a dire diagnosis. Use this book, use the medical system, and start planning now … so you'll never be Dr. Creagan's patient.
Sandra Wendel is the coauthor of this book. Together, she and Dr. Ed have written two empowering consumer health books.
About Sandra Wendel (Omaha, Nebraska Author)
Sandra Wendel is a highly experienced book editor who specializes in helping authors write, polish, and publish their nonfiction manuscripts (in the areas of memoir, true crime, consumer health, and business/leadership). She is a consultant on independent publishing as well.
Her greatest joy in editing is working with authors who have a story to tell. She has worked with Holocaust survivors, a Secret Service agent, cops and a bank robber, entrepreneurs, an eighties rock groupie, a homicide detective, real estate agents, chefs, doctors, lawyers, and ordinary people with extraordinary stories.
She is a published author herself, sharing the authorship of two empowering consumer health books with a physician from Mayo Clinic.
She teaches highly popular continuing education classes at Metropolitan Community College in Omaha, Nebraska, called "How to Write Your Book" and "How to Publish and Market Your Book."