In His Shadow – How Small Our Lives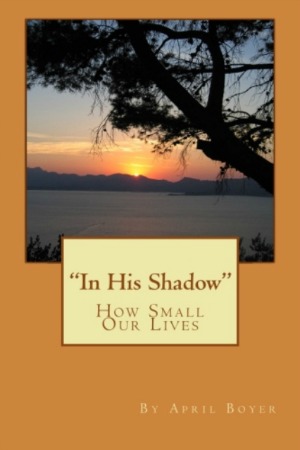 89 pages Pages
ISBN 9781492705024
Encouragement, Hope and inspiration for breast cancer survivors, warriors, and caregivers.
This book takes you on my journey from the first shock of discovery, through recovery and my new normal. This is not a book of facts, figures and answers, but looks at what losing your faith is like, what clinging to God means, and renewing; as well as scripture and quotes.
Many survivors will see themselves in the journey and will appreciate the affirmation, that, yes- someone else has experienced what they have known. Some family members and friends will relate to what they have seen and learned.
You will also find that I am not so strong, but a survivor, and I am not by any means- anyone's poster child.
Truth and humor are found throughout.
About April Boyer (Chicago, Illinois Author)
Wife of 44 yrs, mom and grandmom in Ohio. I survived breast cancer in 2012, and endured 8 weeks of chemo and 6 weeks of radiation.
I am a writer first, but also craft recycled greeting cards to send to shut ins. I love birding and the outdoors. I love to read Christian fiction. I love meeting people, and spending time with friends.
I am interested in small ministries that help in personal ways.
I also do some speaking for support groups and others.