Jesus the Jew, Christ the King – Exploring the Hypostatic Union Between the Jesus of History and the Christ of Faith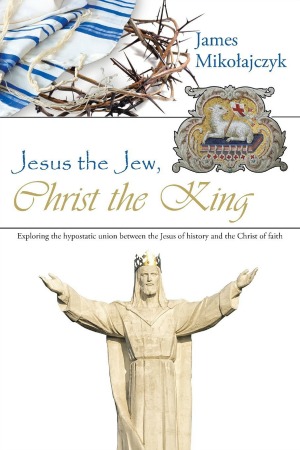 130 Pages
ISBN 978-1-51274-380-7
Jesus the Jew, Christ the King unites biblical scholarship with established theology. Oftentimes, scholars distinguish between the "historical Jesus" and the "Christ of faith," suggesting that Christian belief has elevated Jesus of Nazareth from the common life of an itinerant Jewish rabbi to a divine figure akin to the heroes of Greco-Roman culture.
In keeping with Christian tradition, James Mikołajczyk affirms Jesus as the only begotten Son of God and, moreover, the fulfillment of scriptural Israel.
About James Mikołajczyk (Erie, Pennsylvania Author)
James Mikołajczyk is a U.S. Army veteran. His overseas tours include Kosovo, Iraq, and Korea. He has a Master of Theological Studies from Southwestern College (Kansas) and a B.A. in Religion from American Military University. His hometown is Erie, Pennsylvania. He currently lives near Fort Bragg, North Carolina. ​He published his Master's thesis as a book called 'Jesus the Jew, Christ the King' (WestBow, 2016). He also hosts a website titled 'Christian Origins/Current Faith' (www.cocf-ministry.org) and serves as a contributor to Theology Corner (www.theologycorner.net/jamesmikolajczyk).