Life in His Hands – A Call to Godly Surrender and Purposeful Living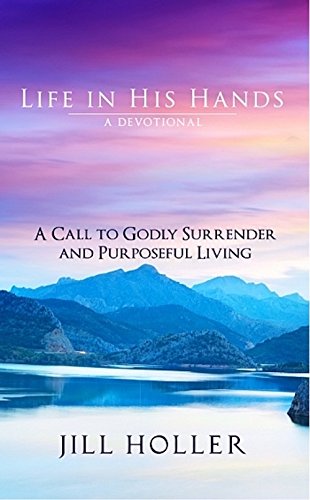 124 Pages
ISBN 9781938499586
Do you long for a deep connection with God? One that goes beyond the surface and deep into His heart? Life in His Hands is a call to seek the heart of God through the pages of His living word and discover the abundant life of faith that functions on the full power of a sovereign, loving God.
Based upon the author's own struggles in finding purpose and experiencing genuine faith, the devotional readings in this book are a testament to the unstoppable power of God's word to change a person's heart, mind, and actions. They are an authentic voice of truth and love that offer strength to those struggling to gain victory over sin, doubt, and other challenges to their faith.
Life in His Hands offers eternal substance to those seeking a deeper relationship with God. It draws readers to a life of purpose in a world that offers only the temporary. Before our creation, God created a specific, purposeful plan for each of our lives, and it is not beyond our reach. Instead, it is waiting to be awakened through the power of a living, active God.
"...Let us throw off everything that hinders and the sin that so easily entangles. And let us run with perseverance the race marked out for us." Hebrews 12:1
About Jill Holler (Iowa City, Iowa Author)
Jill Holler grew up on a farm in western Illinois, enjoying a life of running free through the pastures during the day and gazing at the countless shimmering stars at night. All around her, she could see the work of God's creative hand, and she knew He was real. Yet it wasn't until years later that she would discover the abundant life of faith that comes from taking hold of the living power that resides in God and His word. After struggling to find purpose and meaning for much of her young adult life, she found that it resides simply--yet powerfully--in Jesus Christ, her God and Savior.
Earning a master's degree in English and being a college writing instructor prepared her for writing her first devotional book. But most of all, it was simply the prompting of God and a growing desire to know Him more that led her to write Life in His Hands: A Call to Godly Surrender and Purposeful Living. The devotions in this book are words to her very own soul, yet ones that ring deep with meaning in the hearts of other believers who are seeking God above all else.
Currently, Jill works at Muscatine Community College, continues to write, and enjoys raising her two girls. She also attends numerous football games, basketball games, and track meets, cheering on her husband Marcus, who has been a coach and teacher for twenty years.