No Kale Required – Healthy Eating Ideas for the Rest of Us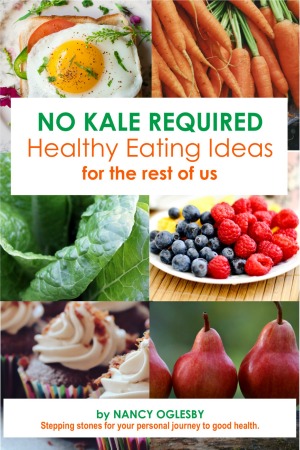 100 Pages
ISBN 978-0-9985141-1-6
How many books have you read about diet and lifestyle? I've probably read 50 and I've tried just about everything. On average, I failed at the three-week mark every time!
Am I supposed to have raisins? How many nuts in a serving? Did I measure that? High Intensity Interval Training or yoga? Both? When I work out, how much time do I need to shower, fix my hair and get to the office? Can my kids eat the same stuff? Meditate? Seriously? HELP!!
Getting healthy doesn't have to be exhausting! No Kale Required focuses on healthy dietary shifts. You get several one-at-a-time simple changes and ideas on how to integrate them easily. Once a change becomes second nature, you add in another. Some of your choices are simple; some are more complex. Choose the changes you want to make depending on your lifestyle and health needs. Every choice is a stepping stone on your very personal journey to wellness.
About Nancy Oglesby (Kansas City, Missouri & Kansas Author)
Nancy is a cat with many lives! Her motto? Never get bored! She's been a Graphic Designer at a Chicagoland studio, Special Projects Manager at G.D. Searle Pharmaceuticals, Ground Operations Manager at FedEx Express and a Marketing Consultant.
In 2009 she found herself without health insurance for the first time ever! Instead of being completely stressed, Nancy decided to get healthy. That was when she found her passion: healthy food, nutrition and natural wellness, plus the desire to guide and support others on their journey to healthy living.
As a 2011 graduate of the Institute for Integrative Nutrition, her passion is to make healthy lifestyle changes accessible to everyone. Education is the key. She teaches classes, coaches, designs wellness programs, does lunch & learns for small businesses and organizations and writes feature articles ... all of which keep boredom at bay!