Odyssey – From Blue Collar, Ohio to Super Bowl Champion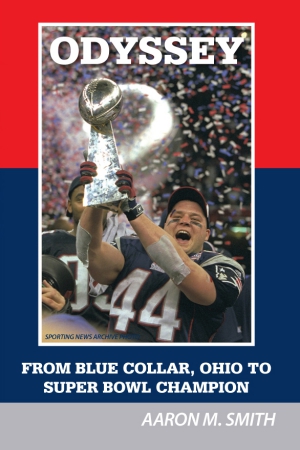 228 Pages
ISBN 145202247X
The journey to the sporting world's grandest stage – the Super Bowl – is often wrought with overwhelming obstacles, personal challenges, and a workload that would make most men cringe. No one understands this more than Norwood's own Marc Edwards, whose winding road from his home on Ashland Avenue to the NFL and ultimately the Super Bowl was littered with derailing pot holes. How Marc Edwards became a caring family man and an old-school battering ram of a Super Bowl champion should no longer be a mystery.
Award-winning writer Aaron M. Smith tells the remarkable story of Marc Edwards in his book, Odyssey: From Blue Collar, Ohio to Super Bowl Champion. It chronicles Marc's phenomenal journey from growing up in Norwood, to playing for Lou Holtz at Notre Dame, and to holding the Lombardi Trophy high over his head on one incredible Sunday night in New Orleans.
About Aaron M. Smith (Cincinnati, Ohio Author)
Aaron M. Smith has always been interested in stories and storytelling and that passion led to a career in the writing field. Smith attended Ohio University and earned a degree in journalism with a focus in creative writing at the nationally recognized E.W. Scripps School of Journalism. After graduation in 2002, Smith worked as a copy editor, feature writer, reporter, and sports editor at various newspapers in Ohio.
Smith left the newspaper business in 2005 and earned his credential to teach writing and English to high school and middle school students, fulfilling a long-time goal to help others develop a passion for writing and reading. While excelling in the classroom as a teacher, Smith missed writing and decided to leave the classroom to become a full-time writer in Ohio.
Since returning to the writing profession, Smith has written two books in addition to many other writing projects for local businesses and publications. Smith also helps others with their memoirs and writes personal biographies for customers.
Smith lives in Cincinnati with wife, Chrissy, and his three children, Sierra, Aidan, and Natalie.