Pacing for Growth – Why Intelligent Restraint Drives Long-term Success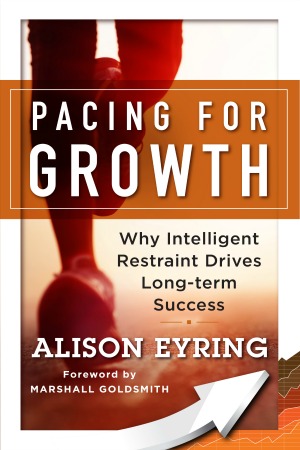 113 Pages
ISBN 978-1-62656-817-4
Whether you're training for a race or running a company, pacing is everything. Go too fast or far too soon and you'll get hurt or burn yourself or others out— but if you don't push yourself enough you don't improve and others will surely leave you in the dust. So how can leaders find the right pace for their business? Growth expert Dr. Alison Eyring, who is also a long-distance runner and triathlete, found the answer in endurance training.
It's a concept she calls Intelligent Restraint that shows leaders how to evaluate their company's and team's current capacity for growth and identify the right capabilities and pacing strategies to increase growth steadily and sustainably all the while managing and building people's energy. She masterfully weaves physiological and psychological research, in-depth business case studies, examples from real leaders, and practical tools with her own narrative of endurance training. The result is a revolutionary new mindset for business growth.
As anyone who has run a long-distance race or competed in a triathlon will tell you, the preparation you do is critical to your performance. Alison knows from her work with Fortune/FTSE 500 and some of the world's most innovative high-growth companies, along with her ultra-racing, that it's important to practice what she's coined, "Intelligent Restraint"— a philosophy backed by three decades of experience and scientific research that helps leaders drive successful business growth.
Based on over three decades of both psychological and physiological research, this book seeks to help business leaders end the boom-splat cycles of growth and exertion to build long-term enduring growth. It helps address the leadership paradox of how to drive performance today while transforming for future growth all while managing and building energy in the organization and its people.
About Alison Eyring (New York, New York Author)
Alison Eyring, PhD is a global thought leader on building organizational capacity for growth. She is the founder and CEO of Organisation Solutions where she has worked closely with senior executives in companies such as American Express, De Beers, Four Seasons, J&J, Microsoft, Prudential and Shell over the past 25 years. She is also Adjunct Associate Professor at the National University of Singapore (NUS). Alison is the author of Pacing For Growth: Why Intelligent Restraint Drives Long-term Success, Berrett-Koehler 2017. When not working, she is training for long-distance races and triathlons. Join the conversation #IntelligentRestraint