Prescription (RX) for Parenting – How to Raise Healthy Infants and Children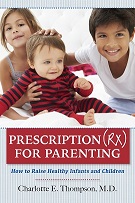 156 pages Pages
ISBN 1620230364
Dr. Charlotte Thompson has 50 years of pediatric medical know-how to help parents. In four distinct sections, you ll find advice on how to deal with infants, toddlers, preschoolers and kids.
About Charlotte E. Thompson, M.D. (San Diego, California Author)
Charlotte E. Thompson, M.D. has been a practicing pediatrician for fifty years. She holds a B.A. and M.D. from Stanford University, is a Fellow of the American Academy of Pediatrics and an Assistant Clinical Professor of Pediatrics at U.C. San Diego Medical School. In 2005 and 2007, she was named as one of the Top Pediatricians in the United States by the Consumer's Research Council of America.
Other Books by This Author