Searching for Normal – The Story of a Girl Gone Too Soon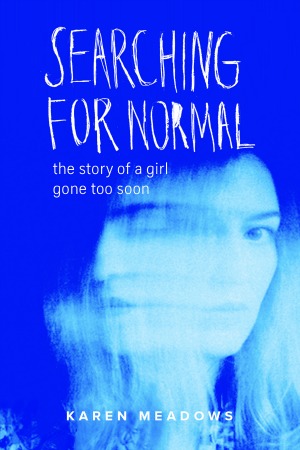 305 Pages
ISBN 978-1-63152-137-9
Karen Meadows had a normal, happy family until depression consumed her daughter, Sadie—a struggle that ended with Sadie's suicide at age eighteen. In Searching for Normal: The Story of a Girl Gone Too Soon, Meadows shares her family's journey as she tries to help her daughter Sadie cope with her mental illness, expertly intertwining her own storyline with excerpts from her daughter's diaries. The years Meadows chronicles are characterized by Sadie's heartbreaking bouts of running away, cutting, and living with Portland street families while Karen and her husband desperately search for solutions —trying medication, hospitals, therapy, wilderness and residential treatment programs, and more. Ultimately, however, they find themselves confronted with the devastating shortcomings of the US's mental health system.
By including personal advice and an extensive list of resources that she wishes someone had provided her when she was trying to help Sadie, Searching for Normal will help parents of struggling teens feel less isolated and better equipped to navigate their teenager's mental illness.
About Karen Meadows (Portland, Oregon Author)
After a six-year battle with her teenage daughter's depression and subsequent suicide, Karen Meadows left behind her successful career in the energy industry to immerse herself in mental health issues. She spent years reading about mental illness and reading her daughter's extensive writing. She volunteered on a crisis line and at homeless youth centers, and serves on the Oregon Chapter of the American Foundation for Suicide Prevention Board of Directors. She also serves on the Oregon Health Authority's Children's System Advisory Committee. This committee advises state policies regarding children's mental health. She has an Executive MBA from UW- Madison, an MS in Engineering from UC Boulder, and a BS in Mechanical Engineering from UC Berkeley. Meadows lives with her husband and two cats in Portland, Oregon.