Soul Fire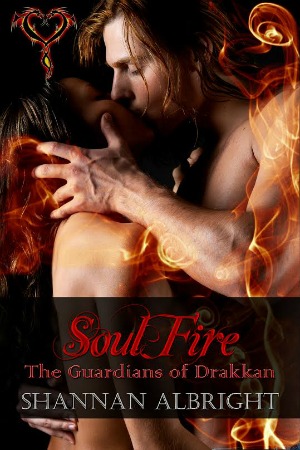 124 pages Pages
ISBN B00PXHHL4I
A dragon on borrowed time. Crispin, king of a shape-shifting race known as Drakkan's children has little hope left for his dying race. Without females for his males to mate with, their extinction is assured. When the mating fever grips him, he knows his time can be counted in days before he goes mad and must be destroyed. A woman who holds the key to a race's survival. During the Beltane Ceremony, Aslynn Durry is one of the chosen by the god Drakkan and the Tuatha de Danann to save the shape-shifting race. Within a secluded glen Aslynn and Crispin, unite for what they think is one night of celebration, only to find both of their destinies' are woven together. An old enemy rises from the pits of hell to have his revenge. The Fomorians have bided their time to strike. The alliance between the Tuatha de Danann and the great dragon god Drakkan has given them the chance they need to satisfy their thirst for revenge. Crispin and Aslynn find themselves pawns in an ancient war. Can they survive long enough to defeat the Fomorians? Or will the hope for Drakkan's dying children be destroyed?
About Shannan Albright (Las Vegas, Nevada Author)
Growing up she was the dreamer in her family, something not always thought of as a positive thing. As a child she would draw and build stories around her pictures, so writing was a natural extension for her. When not writing she spends her time between oil painting and reading. She favors writing paranormal, urban fantasy, time travel, and fantasy romances. She loves developing dark, edgy heroes and heroines who overcome impossible odds internal and external. She considers herself a "hopeful" romantic who believes in a healthy relationship built on respect and a strong partnership. For her, this is the key to a happy ever after.