The 7 Life Miracles – Conquer any goal and overcome any obstacle to unlock your dream life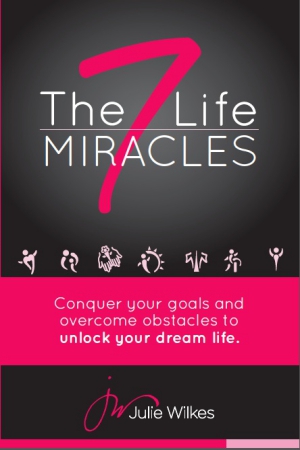 160 Pages
ISBN 0989452921
In a humorous yet, real-life voice, author Julie Wilkes invites you on a personal journey to discover the 7 Life Miracles in your life. She breaks down the excuses or "stories" that create road blocks and opens up the possibility of what your life looks like when you share the gifts, talents and passions that are locked inside of you. Chapter by chapter, Julie shows you how to let the life you envision become your reality.
In The 7 Life Miracles, Julie shares the 7 life-changing lessons she has learned through her life. Diagnosed with heart disease early in life, doctors predicted she may only live to 12 years old. Instead, she embraced life and defied expectations. After living more than three times longer than doctors forecasted, she realized that there are 7 key factors that allowed her to beat the odds and live passionately.
These key factors – the 7 Life Miracles – are now yours. By tapping into these 7 Life Miracles in your own life, unbelievable, amazing and unexpected things will begin happening. Immediately! If you're ready to begin living a rich life full of everyday Miracles, phenomena, marvels, sensations, and visions of your own, then pick up the book and turn to the first page. It's time to begin an incredible journey that will bring joy and happiness to your life in amazing and unexplained ways.
About Julie Wilkes (Columbus, Ohio Author)
A heart disease survivor, Julie believes she was given a second chance at life for a reason. She finds that that when she is sharing the inspiration behind her second chance with others, she is living into her life purpose.
Julie is the North American Wellness Lead for Accenture, a Global Fortune 500 Company, CEO and Owner of Seven Studios (a yoga and fitness studio), published author of The 7 Life Miracles, a Life Coach, a motivational speaker and an entrepreneur, owning several companies, including: aromatherapy product lines, an online life coaching series and a public speaking academy. Her latest company to launch, "Fetch and Sculpt' includes a workout app designed to allow dog owners and their dogs to workout together.
Julie has appeared on The Carol Alt Show with Fox News, interviewed on The Marilu Henner Show and has been featured on many television shows and newstations either as a fitness/wellness expert, author of motivational content or entrepreneur. Julie has spoken and presented across the globe, including at the White House, the US Chamber of Commerce, TED Talk, Solutions at Work Live, various national health conferences, the National Business Group on Heath, International Women's Day, and the US Department of Defense. In 2016, she was selected as one of "25 Remarkable Women" from Role Model Magazine and one of 12 'Women You Should Know' in Central Ohio by the Women for Economic and Leadership Development (WELD) organization. Julie has been featured in numerous magazines including: FITNESS Magazine, Columbus CEO, Weight Watchers Magazine, Fit Columbus Magazine and others. Julie has shot over 80 fitness and motivational videos, has several health and wellness mobile phone apps and is an author and often serves as a subject matter expert for local and national news stories.
Julie has a Master's Degree in Education - Exercise Physiology from The Ohio State University, and a Bachelor's Degree in International Business from Marietta College. She has her Registered Yoga Teacher Training 200 hour certification with Yoga Alliance and fitness and pilates certifications from ACE, AFAA, ACSM, and Fitour. She also has a life coach certification from WellCoaches.