The Earl – A Devil's Duke Novel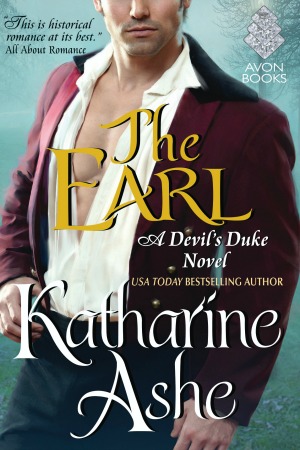 368 pages Pages
ISBN 978-0062412751
How does a bookish lady bring an arrogant lord to his knees? Entice him to Scotland, strip him of titles and riches, and make him prove what sort of man he truly is.
OPPOSITES… Handsome, wealthy, and sublimely confident, Colin Gray, the new Earl of Egremoor, has vowed to unmask the rabble-rousing pamphleteer, Lady Justice, the thorn in England's paw. And he'll stop at nothing.
ATTRACT. Smart, big-hearted, and passionately dedicated to her work, Lady Justice longs to teach her nemesis a lesson in humility. But her sister is missing, and a perilous journey with her archrival into unknown territory just might turn fierce enemies into lovers.
About Katharine Ashe (Raleigh, North Carolina Author)
KATHARINE ASHE is the award-winning and USA Today bestselling author of historical romances that reviewers call "intensely lush" and "sensationally intelligent," including her acclaimed Devil's Duke Series, as well as My Lady, My Lord and How to Marry a Highlander, finalists for the prestigious RITA® Award of the Romance Writers of America. Her books are recommended by Publishers Weekly, Woman's World Magazine, Booklist, Library Journal, USA Today, Kirkus Reviews, Barnes & Noble, Amazon, and many others, and translated into languages across the world.
Katharine lives in the wonderfully warm Southeast United States with her beloved husband, son, dog, and a garden she likes to call romantic rather than unkempt. A professor of European History, she writes fiction because she thinks modern readers deserve grand adventures and breathtaking sensuality too. For more about Katharine's books, please visit www.KatharineAshe.com.