The Extraordinary Art of Couponing – The not-so-extreme way to save 50% or more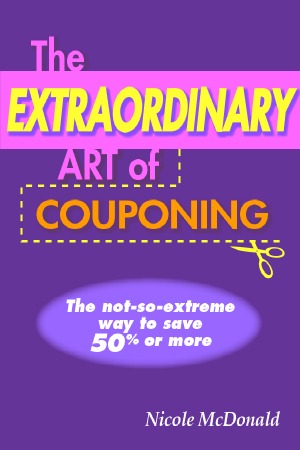 64 Pages
ISBN 978-1490409832
What if you could save 50% or more off every grocery bill and even shop for FREE? This book is a step-by-step guide to couponing without being extreme. It will jumpstart your journey to save hundreds of dollars every month!
Topics include getting organized, how to plan a trip using coupons, responsible stockpiling, meal planning, stacking coupons, where to find coupons and advanced couponing tips. New and experienced couponers will benefit from the savvy advice and time saving couponing tips from expert bargain shopper and coupon class instructor, Nicole McDonald.
About Nicole McDonald (Omaha, Nebraska Author)
Nicole McDonald, born and raised in Nebraska, is a wife and mom of three. She is passionate about helping others save money and blogs about coupons, deals, freebies and all things frugal at www.momsavesmoney.net. Nicole teaches coupon, meal planning, freebies and frugal fun with kids classes at several community colleges in the Omaha area.