The Gift of Courage – Stories of Open Hearts, Passion, and Purpose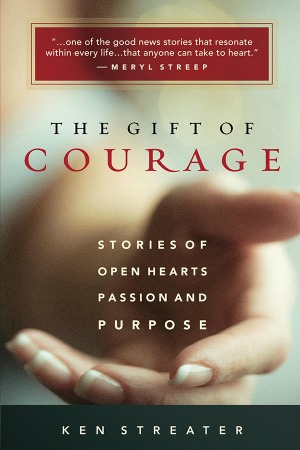 216 Pages
ISBN 978-0-9892089-2-5
The Gift of Courage is a powerful book about leading with love. It's full of inspiring stories of courageous, purpose-driven people who are finding happiness while helping heal the world.–Marci Shimoff, #1 NY Times Bestselling Author, Chicken Soup for the Woman's Soul and Happy for No Reason
One of the good news stories that resonate within every life…that anyone can take to heart.–Meryl Streep, Academy Award-winning actress
This book is a reminder to us all that our finest moments are when we take those courageous risks on others' behalf. The reporting here is solid and the inspiration profound.–Geraldine Laybourne, Founder of the Oxygen Network and former President of Nickelodeon.
About Ken Streater (Bend, Oregon Author)
As an international rafting outfitter, social entrepreneur, and acclaimed author, I have studied cultures amid the deltas of Botswana, in small villages of Siberia, on the streets of China, and through deep conversations with luminaries and everyday heroes. Today, I love to impart to eager audiences what I have learned about communities, trust, and open hearts from my work and play in nearly 50 countries.
Writing "The Gift of Courage" was an exploration of human nature, of learning about and then sharing stories of regular yet extraordinary people whose courage-sometimes in the face of extreme challenge-empowers them to lead purposeful lives. These everyday heroes radiate goodness and selflessly lift the state of our world. This is the gift of courage.
My wife, Danielle, and I have the great joy of raising our children — Dawson, Delaney, and Dari — just outside of Bend, Oregon, amidst ranch lands with endless views of the nearby 10,000-feet tall Three Sisters Mountains. Starry skies filled with universal glory, forever Cascade panoramas, and traffic-free morning walks make our hometown heaven on earth. I passionately and proudly coach my kids' sports teams, help them with projects like driving a go-cart in the Fourth of July parade or learning to dance the hula, tuck them in at night after doing the "jelly belly" dance, and then hold my wife as I blissfully have for 25 years.