The Pemigewasset Valley – A History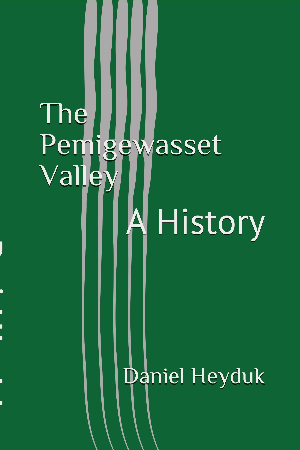 290 Pages
ISBN 9781727455588
The Pemigewasset River Valley held many threads of New Hampshire's history. Native Americans traveled its corridors for thousands of years, followed by hostile raiders of the "Indian Wars," and by surveyors and settlers. Farms stretched from its stream banks to its high slopes, and dams harnessed its power. Loggers, tourists and conservationists fought over its resources, while artists captured its beauty. Born on the slopes of the White Mountains, and fed by many streams, the Pemigewasset River was, and at times still is, a destructive demon for those living in its valley. This is the first book to cover the entire valley, with its farms, industries, log drives, covered bridges, railroads, hotels, storms, floods, and much more.
Daniel Heyduk worked with historical societies, libraries and museums to gather material. He has included much history written by the valley's own people and many historic photographs.
About Daniel Heyduk (New Hampshire Author)
Daniel Heyduk, Ph.D., has always been interested in people and places. He lived with Nahuatl people in Mexico and Quechua people in Bolivia, did archaeological work on prehistoric hunters in Ecuador, and was a college professor of anthropology and prehistory. Later, he ran scholarship and training programs around the world.
He lives in the Lakes Region of New Hampshire, where his "Passing Time" history column appeared in the Meredith News. His book MEREDITH CHRONICLES describes some of that town's history and his STORIES IN THE HISTORY OF NEW HAMPSHIRE'S LAKES REGION AND PEMIGEWASSET VALLEY covers historic people, places and events in several towns. His book HUAYRAPAMPA is a study of revolutionary land reform and the lives of Quechua people in the Andes mountains of Bolivia.
Daniel Heyduk's latest book is THE PEMIGEWASSET VALLEY: A HISTORY, published in May, 2020.
Other Books by This Author