Dishonor – One Soldier's Journey from Desertion to Redemption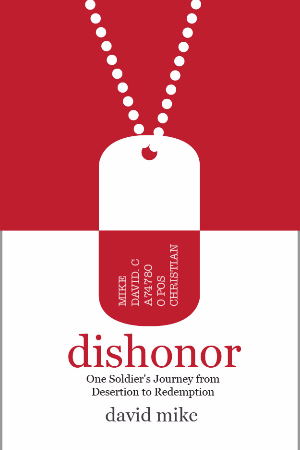 330 Pages
ISBN 978-0692759202
Sometimes you have to be locked up to find true freedom.
David Mike swore allegiance to his country in 1987, only to be dishonorably discharged for desertion. One bad choice after another landed him at Fort Leavenworth, a notorious military prison in Kansas, where starts a new life as an inmate. Follow his journey as he claws his way toward Christ and away from the past that yearns to destroy him.
Dishonor: One Soldier's Journey from Desertion to Redemption is a vulnerable and compelling look at a life gone wrong. With stark honesty, David gives insights into prison life and the shame that comes with living a dishonorable life. Through his raw, gritty, personal account, he pleads for you to find the same redemption he found in his life.
About David Mike (Omaha, Nebraska Author)
David Mike is a Christ follower, husband, father, author, blogger, and cosmetology instructor in Omaha, Nebraska. David is passionate about sharing the message that we do not have to be defined by our past and that God can use our kind of mess for good. Dishonor is his first book.