Fangs for the Memories – Providence Paranormal College Book Two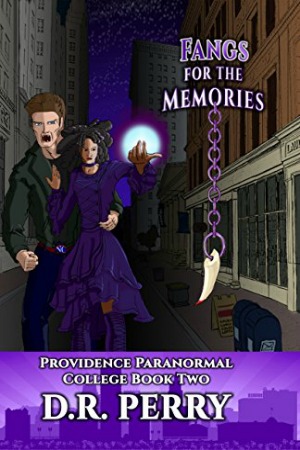 260 Pages
ISBN 978-1532853739
Memory is a tricky business.
No one remembers Maddie May. That's fine with her; just a side effect of Umbral magic. Unfortunately, she has to take the Magic Theory Lab at Providence Paranormal College. Maddie won't pass if the Professor can't remember her.
Henry Baxter's a psychic vampire who can store total recall for himself and others. He's been in business since 1986, but new regulations mean he needs a degree to keep operating. Going back to college after sixty years on earth is definitely a drag, especially since society treats vampires as second-class citizens.
The woman everyone forgets and the man who remembers everything seem a natural pair. While Maddie's all for it, Henry keeps pushing her away. But what if the only way they'll survive is together?
About D.R. Perry (Rhode Island Author)
D.R. Perry lives in Rhode Island, where all her books are set. Although she's not a native New Englander, once up north she got so inspired she couldn't leave. A wild Northern Muse attacked. D.R. used Typing; it was Super Effective.
D.R. writes all kinds of things. Mostly, they have strange and unusual elements. Not strange isotopes or Strontium or anything like that, but creatures who are people or people who are creatures. Beware of the Attack Poetry and rampant puns. Keep off the grass, or the song parodies may bite.
She lives with her husband, daughter, and dog in the Ocean State, which she loves to remind people is not an island and not Long Island. D.R. is well aware that her home state has both of those things, but isn't defined by them. Maybe she likes it here so much because it reminds her that she's also more than the sum of her parts.
D.R. hopes you have as much fun reading her books as she did writing them.