Murder in White Lace – A bridal shop cozy mystery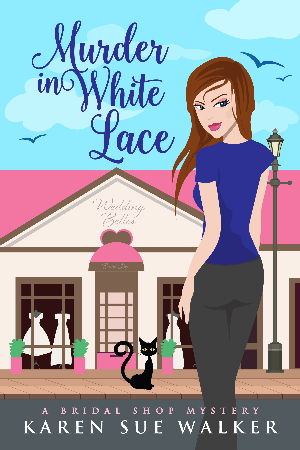 192 Pages
Karen Sue Walker
ISBN 1537603728
The only thing worse than a Bridezilla for a client is a dead one.
Max Walters is a talented bridal consultant with dreams of moving to New York and being a designer, even if it means leaving behind her serene California seaside home.
When a shocking murder rips the tranquil veneer of Crystal Shores to shreds, she discovers there is more to her home town than meets the eye. With her friend arrested for murder and the police refusing to search for another suspect, Max quickly discovers the only way to clear his name is to investigate for herself. Despite the concern of the handsome Detective Cruz, Max weaves together a list of suspects that puts her on the path to the real killer.
Will she be able to tie up the loose threads and catch the murderer? Or will the murderer get to her first?
About Karen Sue Walker (Orange County, California Author)
Karen Sue Walker is the author of the Bridal Shop Cozy Mysteries including Murder in White Lace and Murder in Crimson Velvet. She lives in Anaheim, California and enjoys spending time with her friends and family, especially her 10-year-old granddaughter who also loves to write.
Karen is currently writing the third in the series, Murder in Blue Gingham, which will be released in early 2018.
Other Books by This Author