My Family Tree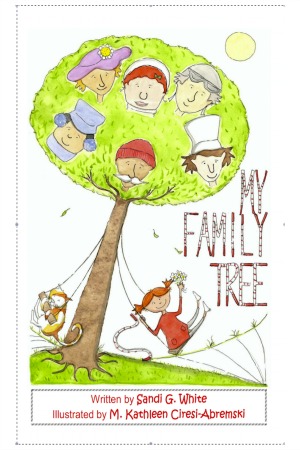 28 Pages
ISBN 978-1-5030-9565-6
Join little Emma Rose as she climbs around in her family tree and tells some stories about amazing (and silly) things her ancestors did.
About Sandi G. White (Grand Rapids, Michigan Author)
Born into an average Catholic family in Buffalo, NY, I am the younger of two children. After graduating from high school, I spent most of my life jumping from one job to another, eventually earning an Associate of Arts degree, but knowing that I was meant to strike out on my own and be somebody one day. I started my own transcription company after my daughter was born, which allowed me to be a stay-at-home mom while still earning money.
My family moved to Tampa, Florida when I was 4, so I grew up there, but I have also lived in Colorado, California and Michigan. My favorite hobbies include kayaking, bicycling, swimming, spending time at the beach, and making rhymes.
I've always enjoyed making rhymes for things, whether it's just making up silly lyrics to a favorite song on the radio, or making up phrases that just fit the moment.
When my children were young, I decided I didn't want to do the typical plastic egg hunt for them, which ended with a basket full of sugared candy. So I started doing a "treasure hunt" of sorts, where the kids would have to follow rhyming clues to get to the next egg. A trail of eggs with clues inside led them to the "prize" at the end, which could be anything from a large stuffed animal or a toy of some kind. I finally put a set of those rhymes to good use and wrote my first (unpublished) children's book, The Egg Hunt.
Living in the woods in West Michigan, I got to see a lot of wildlife right in my backyard. So, I wrote my second book, Treasures In The Woods, which includes beautiful photographs along with fun rhymes that teach kids about nature. I am planning to do a series of "Treasures" books about different locations, so be sure to sign up to receive blog posts of what I'm up to on my website, www.SandiWhite.com.