Silent heroes – A Recon Marine Vietnam War Experience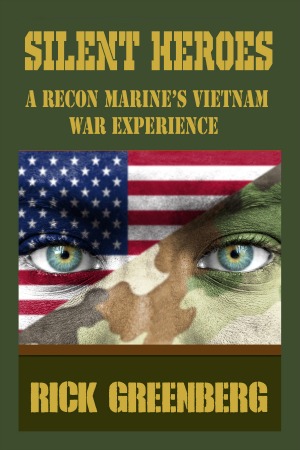 303 Pages
ISBN 9781522742807
Silent Heroes is an action-packed, skillfully told, emotional and gripping Vietnam War story by retired U. S. Marine Corps Gunnery Sergeant Rick Greenberg, who served in an elite Reconnaissance Battalion in Vietnam from 1969 to 1970.
Greenberg joined the Corps right out of high school because he always wanted to be a Marine. Little did he know what it would cost him to even approach earning such a title.
After boot camp, "Greeny," as he was later known by his Recon team buddies, attended radio communications school. As a radio operator, upon arrival in Vietnam, Greenberg was surprised and troubled when he was arbitrarily assigned to the First Recon Battalion, and elite unit, and normally manned by volunteers. He soon learns he must adapt quickly, or risk going home in a body bag.
The battle scenes Greenberg masterly draws in Silent Heroes are both realistic and gripping. They can easily send chills down the spines of combat veterans, and dispel any false notions or myths held by non-combatants. A great read that tells it like it was regarding brave warriors who fought, and some who died, in the Vietnam war!
About Rick Greenberg (Chicago, Illinois Author)
My name is Rick Greenberg. I grew up in Chicago playing on the streets and trying not to end up in jail. Shortly after I turned 18, I joined the Marine Corps. I always wanted to be a Marine. At the age of 12, I called the Marine Corps Recruiter and lied about my age and explained, I wanted information on joining the Corps. I received brochures of Marines in boot camp and training in different MOS. With the pictures spread out across my bed, I played Marine. I served 12 months in Vietnam with the First Reconnaissance Battalion, United States Marine Corps from September 1969 to September 1970. I was involved with Long Range Reconnaissance Patrols (LRRP). In the Gulf War, I spent six months in Desert Shield/Desert Storm. I arrived in Saudi Arabia in December 1990 and left in May, 1991. Stationed as the Motor Transport Chief for Seventh Engineers, I took the first convoy of trucks and other support vehicles into Kuwait, directly behind our advancing tanks and grunts. In 1992, I suffered a tragic accident losing my wife and barely surviving myself. After a 30 day coma and months of rehabilitation, I rejoined my unit, passed a PFT and then shortly later, retired. Emotionally broken, I felt I could no longer continue the proud tradition of the Marine Corps as a Gunnery Sergeant. My retirement became official in 1993. I met my present wife Kim and together we share seven children. I am presently living in central Florida where I will spend my final days honoring those who served and writing more books.