Swept to Sea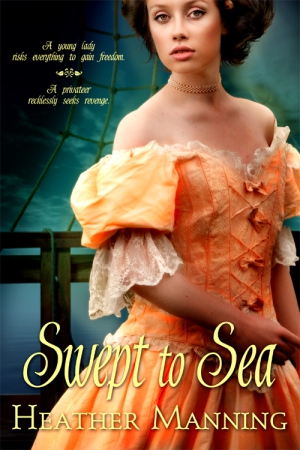 254 Pages
ISBN 9781621352341
Lady Eden Trenton never wanted to leave her privileged existence in London—until her father invites a dangerous suitor into her life. Left with few options, Eden devises the best reprieve she can: escape. Chasing freedom, she stows away aboard a pirate ship, praying she will gain her independence in the colonies before she is discovered by the nefarious crew.
Captain Caspian Archer has spent the last five years hardening his heart and searching to exact revenge for the event that tore his life to shreds. When he catches word that his enemy is residing in Jamaica, Caspian steers his ship toward the colonies in all haste. His plans soon change, however, when he discovers the young beauty hiding in his ship's hold.
Cut from the only lives they have known, Caspian and Eden are pulled together as each pursues a fresh hope upon the sea.
About Heather Manning (Kansas City, Missouri & Kansas Author)
Bestselling author Heather Manning is a young lady who loves to read--and write. After she won several writing competitions, her first book, Swept to Sea, was professionally published and quickly became an Amazon Bestseller. She is an active member of her local ACFW chapter and lives in Kansas City, Missouri and sees plays, devours donuts, and acts in community theatre. You can find Heather on her blog: heathermauthor.blogspot.com.
Other Books by This Author