The Author Blog – Easy Blogging for Busy Authors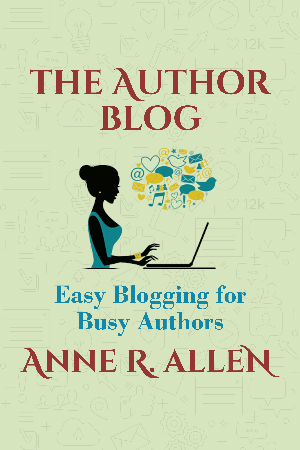 176 Pages
Kotu Beach Press
ISBN B077Y5DKP9
An easy-does-it guide to simple, low-tech blogging for authors who want to build a platform, but not let it take over their lives.
An author blog doesn't have to follow the rules that monetized business blogs do. This book teaches the secrets that made Anne R. Allen a multi-award-winning blogger and one of the top author-bloggers in the industry.
And you'll learn why having a successful author blog is easier than you think.
Here are some things you'll learn in this book:
•How an author blog is different—and easier to maintain—than a business blog •What authors should blog about at different stages of their careers •Choosing the right blog topics for your genre and audience •How one type of blogpost can build your platform quickly •Basic SEO tips that don't make your eyes glaze over with tech jargon •How to write headers that will grab the attention of Web surfers •How to keep your audience by learning the tricks of content writing •Essential blog and social media etiquette rules •What happens to your blog when you die?
About Anne R. Allen (San Luis Obispo, California Author)
Anne R. Allen is the author of nine comic novels. THE GATSBY GAME, FOOD OF LOVE, and THE LADY OF THE LAKEWOOD DINER are available singly or in a boxed set called BOOMER WOMEN. She's also the author of the hilarious Camilla Randall mysteries: THE BEST REVENGE, GHOSTWRITERS IN THE SKY, SHERWOOD, LTD., NO PLACE LIKE HOME, SO MUCH FOR BUCKINGHAM, and THE QUEEN OF STAVES. She also has a collection of short stories and verses called WHY GRANDMA BOUGHT THAT CAR. She is currently published by Kotu Beach Press.
She's the co-author of HOW TO BE A WRITER IN THE E-AGE...A SELF-HELP GUIDE, written with Amazon #1 seller, Catherine Ryan Hyde. Anne's latest book is THE AUTHOR BLOG: EASY BLOGGING FOR BUSY AUTHORS.
Writer's Digest named "Anne R. Allen's Blog...with Ruth Harris" one of the "Best 101 Websites for Writers", and the blog made The Write Life's list of the Best 100 Websites for Writers for 2017 and 2018.
Anne is a graduate of Bryn Mawr College and spent twenty-five years in the theater--acting and directing--before taking up fiction writing. She is the former artistic director of the Patio Playhouse in Escondido, CA and now lives on the foggy Central Coast of California with an imaginary cat and a lot of fictional people.
Other Books by This Author