Your Leadership Edge – Lead Anytime, Anywhere.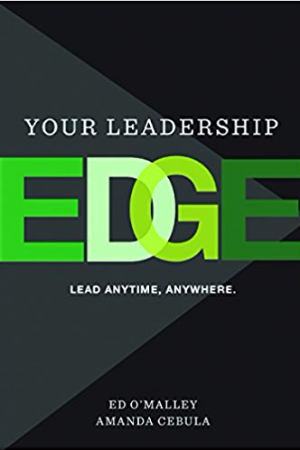 195 Pages
KLC Press
ISBN 978-00-9889777-5-4
Designed to help you thrive, Your Leadership Edge offers powerful and provocative ideas to help you mobilize groups around what matters most. KLC's newest resource offers insights about the daily practice of leadership. It's a practical, comprehensive guide designed to help you hone the behaviors, attitude and mindset necessary to create lasting impact for yourself, your organization or your community. Your Leadership Edge will help you take your leadership practice to the next level.
About Ed O'Malley (Wichita, Kansas Author)
Ed O'Malley is the founding president and CEO of the Kansas Leadership Center, the home of Your Leadership Edge experiences. A former state legislator and gubernatorial aide, Ed started the Kansas Leadership Center in 2007.
The titles "president" and "CEO" may conjure up traditional notions of authoritarian leadership, but Ed O'Malley, who holds those titles at the Kansas Leadership Center, doesn't see them that way. His experience in the legislature gave him a ringside seat for both effective and ineffective displays of civic leadership. To him, leadership is not a title, personality trait or workshop topic. Instead, it's an opportunity that people can grasp and choose to exercise in many different ways and venues.
About Amanda Cebula (Co-Author)
Amanda Cebula is the director of business development at the Kansas Leadership Center where she works to develop partnerships with organizations and businesses seeking to apply the KLC leadership framework. She joined the Kansas Leadership Center in 2007.
Cebula is a Communication Studies graduate from Kansas State University, with minors in Music and Leadership Studies. She also earned a master's degree in Management & Leadership from Webster University. Aside from her passion for leadership development, Amanda enjoys playing the piano, reading and traveling with her husband.